TBPA Conference 2020
Cancellation Update
Due to all of the unknowns still going on with this virus, your TBPA board of directors has decided to cancel the 2020 Conference which was scheduled for October 21-23 in Gatlinburg. We will work on getting this rescheduled, probably for the Fall of 2021.
2019 Recap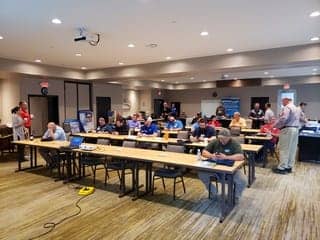 The 2019 TBPA conference was opened by TBPA President Bradley Tomlin who gave some Association updates and introduced our vendors. Bradley also discussed our efforts to keep our members updated on a regular basis through our website, Facebook page, and email. If you have any info/news that would be useful to other members, or an opinion on improvements for future conferences, please share it with us.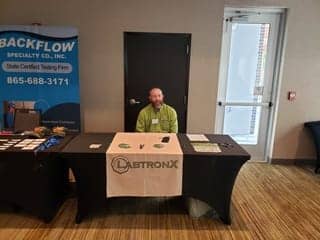 2019 sponsors present at the conference:
Mid-America Marketing represented by Lloyd Rainey
Backflow Control (Roger Crane)
Fox Sales (Tim Hulan)
BAVCO (Mark Canterbury)
Backflow Specialty (Brad Stinnett)
Labtronx (Adrien Pratt)
A.R.I. (CJ Hart)
T.A.U.D. (Brent Ogles)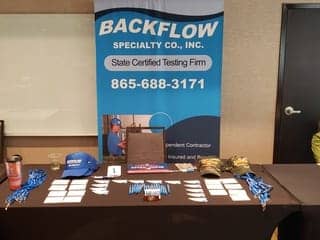 Thanks again for your continued support to the TBPA and for your efforts to help protect the potable drinking water of Tennessee.
Ben Rodriquez was our first scheduled speaker. He gave us an update on the Fleming Training Center. The training center helps to protect the State's water through several different avenues which include: input on regulations, cross connection control, 3 backflow preventer repair classes offered yearly, and training and certifications in: water treatment, wastewater, distribution, and collections.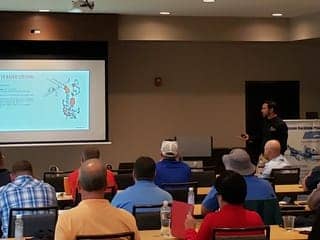 The training center is thriving with new equipment being purchased and more classes being offered. The backflow prevention tester certification classes are often full, so a fourth instructor is to be hired soon. Written exams were updated for 2019. The new electronic records database is still an ongoing project with working models being tested. This database will allow certified tester queries, online payments for Fleming Training Center courses and training, and more.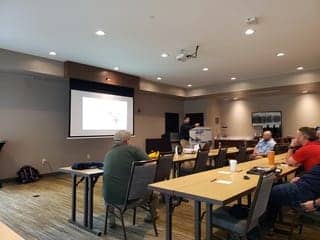 Ben also pointed out that the Rules of Tennessee Department of Environment and Conservation Division of Water Resources Chapter 0400-45-01, updated February 2019, now includes mention of the TDEC Cross Connection Control Manual, specifically in 0400-45-01-.17(6)(b)(3). The TDEC manual: offers assistance for public water systems, explains responsibility and authority that the utilities have, gives equipment and testing specifics, explains installation criteria, test report examples, etc. Fleming is looking to get other test procedures approved by the State in the future.
Other tidbits. Tennessee has 2704 active testers, 11249 is the latest tester number, 0501 is the oldest active number with a 1981 issue date and being renewed in 2018.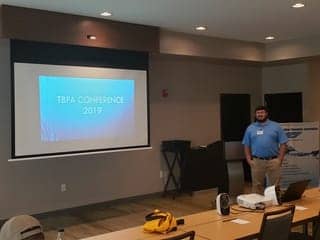 Josh Gazdacko with Century Fire Protection was our next speaker. Josh discussed different areas of fire protection systems including: wet, dry, pre-action, deluge, fixed spray, stand pipes, service mains, foam, anti-freeze, fire pumps and jockey pumps. Many aspects of these systems were covered such as: the main drain test needing to be completed relative to backflow preventer testing, forward flow tests are required, internal inspections on backflow preventers, jockey pump suction pressure must be above 20 p.s.i., fire pumps need to be tested, and the importance of being properly certified before doing any work on fire line systems.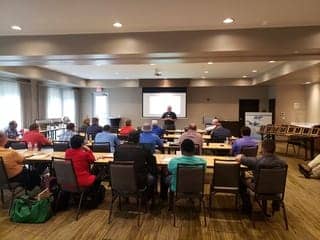 Jared Gowan with Jackson Energy was our next speaker. He was able to give us a view of how Jackson runs their Cross Connection Control Program. This included the number of assemblies he is in charge of tracking, current fees that are charged for testing, the process that he uses to track the assemblies to make sure they are tested, the method that Jackson has implemented to have their annual testing completed, and the method they use to fund the cross connection control program. Jared also discussed their survey program and the process that is followed with those customers who have wells on their property.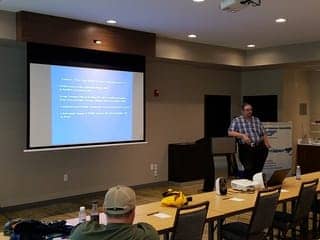 Next up, we were able to hear from a representative of our TDEC Compliance and Enforcement Division. Examples of backflow incidents which affected areas in TN were presented: chicken houses, sewage treatment plants, taxidermy shops, a farm supply company, trucks mixing chemicals in tanks without the proper air gaps, etc. Several examples were given of what should be in a utility's cross connection control plan. If there are issues, in the end, the State will focus back on the Utility. If it is in your plan, then it must be done.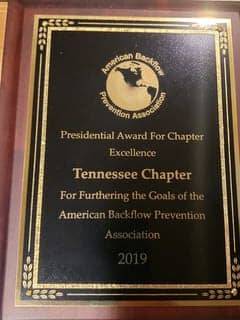 Kathy Riley, our Regional ABPA Director, was next to speak. She gave updates on the National level, along with discussing the next National Conference which will be held in Charlotte, North Carolina on April 20-22, 2020.
Lloyd Rainey with Mid-America Marketing was our final speaker and, as always, he dispersed some great information and interesting cross connection stories from his many years in this industry. Lloyd also stressed that we need to continue getting the word out to the younger generation of the many opportunities in the trades industry.
How would you improve the conference? Send your ideas to Michael Robeson (Director at Large) or Bradley Tomlin (TBPA Immediate Past President). We appreciate your feedback!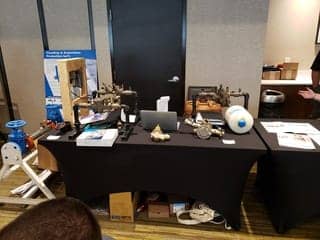 TBPA members are the first to know the conference plans. Become a member so you'll have plenty of time to make arrangements to attend the conference (plus, you get other benefits like early access to our quarterly newsletter).
If you're not ready to join over 100 other people in supporting the TBPA, you can also find information about the upcoming conference in our newsletter.